I love easy to make treats around the holidays. You'll love this chocolate and peanut butter cookie bar just as much as my kids do.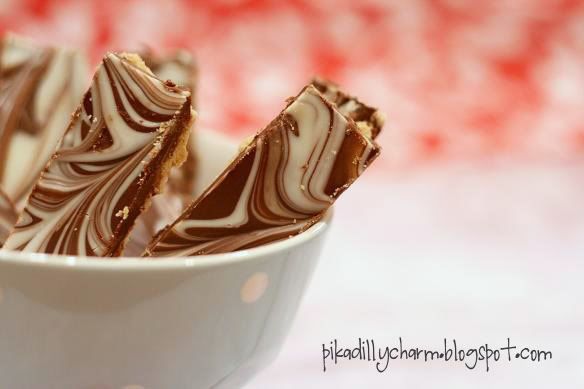 What You'll Need:
- 9x13 pan
-Tin foil
- About 8 Graham Crackers (broken in half)
- 6 Squares of semi-sweet baking chocolates
- 3/4 Cup Peanut Butter
- 4 oz (or 4 squares) of white baking chocolate
The How To:
- First line your pan with tin foil.
Then arrange the graham crackers to they cover the bottom of the pan. You may need to cut a curved corner on the pieces that fit in the corner of your pan.
- Next, put your semi sweet sqaures and your peanut butter in a microwave safe bowl. Microwave on high for 1 to 2 minutes....be sure to STIR your chocolate/peanut butter every 30 seconds until it is melted.
- Then pour it over the graham crackers and spread so it covers all of the crackers.
- Now, melt the white chocolate the same way. Being sure to stir every 30 seconds until melted.
-Drop spoonfuls of the white chocolate into the pan.
- Use a knife and drag it through the white chocolate to swirl it with the semi-sweet chocolate. If you swirl too much it will just turn muddy looking.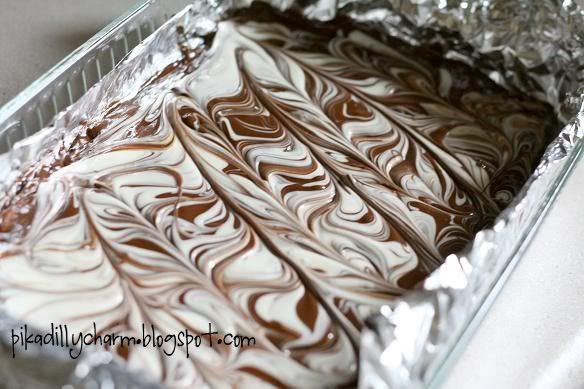 - Now stick it in the refridgerator for an hour or so until it is firm.
-When it is firm, hold the tin foil and lift it out of the pan. Then peel the tin foil off of the treat.
-Next, use a knife to cut it into bars. And serve and enjoy!