I couldn't believe how yummy these truffles were!! An added bonus is that they are pretty easy to make too and only need 3 ingredients. Woohoo!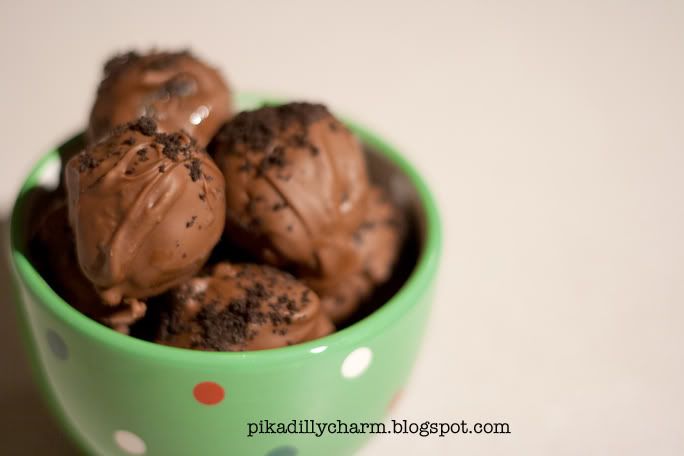 What You'll Need:
- 1 8oz package of softened light cream cheese
- 1 16 oz package of Oreo cookies (store brand Oreos taste just as good in this recipe)
- 16 oz of milk-chocolate baking chocolates
The How To:
- First you will need to crush up all the cookies into fine crumbs. You can do this in a blender, food processor, or you can crush in a resealable plastic bag using a rolling pin.
- Set aside a 1/2 cup of the crumbs for later use.
- Next you will mix together the cream cheese and cookie crumbs.
- Now roll them into 2 inch balls.
- After they are all rolled out, melt the chocolate according to the directions on the package.
- Then dip each ball into the melted chocolate and set aside on a cookie sheet.
- Sprinkle the balls with the cookie crumbs that you set aside.
- Now refrigerate them for about 1 hour or until they are firm.
-Enjoy! But remember, if there are any left overs they need to be stored in the refrigerator. =)